Marcellux.- Visual Artist
Paintings, Sculptures & Digital Art
Nothing to do today? I invite you to see art...
Self -Portrait (Digital Art)
"Gods' energy" serial
Copyright Marcellux 2002 All rights reserved Worlwide

Gods are watching us... They've got the power and they use it... They take care of us, because we are their creation. Watch them work here... Take the priviledge to see
"Gods' energy"
Marcellux

Gods' Energy #1
Oil on canvas 19" x 27"
2002
This serial is still in process!!
I'm still making it. Here you have the chance to see how a serial is made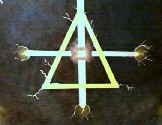 Click to enlarge

Would you like to see MORE Paintings?

Bonus!!! Download Free Wall papers of Marcellux paintings

Download
To mail the Curator of this page and ask information about Marcellux' work : Click Here
Last Update: Year 2002
Counter: